Unlock Your Ford Kuga Radio
Instantly Online
£7.99
Online Radio Codes for all Ford Kuga Radios
, We only supply working radio codes with
over 250,000 customers served.
Our decoding service is available
24 hours a day 7 days a week
. All radio codes are displayed
instantly
after checkout.
Award Winning Service.
250,000+ Happy Customers.
Instantly Available.*
Expert's On Hand To Help.
4.7/5
Payment Options
How to Find Your Ford Kuga Radio Serial Number
Method 1
Showing your Ford Kuga radio serial code on the radios display.
Holding Preset Buttons 1 & 6
Turn on your radio and hold the preset buttons 1 & 6 for 2 to 3 seconds, the code cycle will begin, wait until your serial shows and make note. It will look like the image below .
Holding Preset Buttons 2 & 6
If buttons 1 & 6 do not work, try holding button presets 2 & 6. The radio serial will display on screen.
Ford Kuga 6000CD Radio
To obtain your Ford Kuga radio serial, hold buttons 1 & 6 together to start a code cycle. The 'V'/'M' serial will display towards the end of the cycle. For example V197905
If you do not see the serial try holding buttons 2 & 6 and look out for a serial starting with the letter 'M'. If neither of these work please refer to method 2 below. For example M197905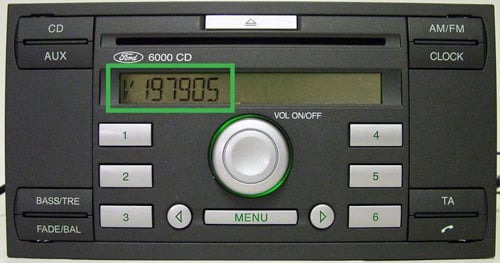 Method 2
How to Find Your Ford Kuga Radio Code Serial Number on the Label.
Step 1 - How To Take Out Your Ford Kuga Radio
It is quite simple to remove your Ford radio. You will need a set of radio release keys (PC5-132). These are inexpensive and are around £3 - £5, you can obtain them from Amazon.
Once you have the radio release keys, push them into the 4 holes in each corner of the radio (See image), apply a little pressure and the radio will release from the dashboard. The radios label will be located on the radio's casing.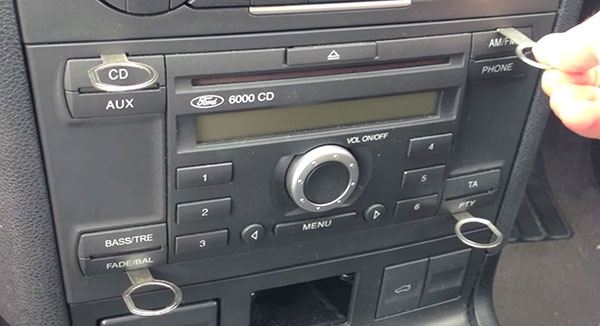 Step 2 - How To Find Your Ford Kuga Radio Serial.
Most Ford radio serial starts with V/M/BP/C7 for example V123456. The TravelPilot models are a longer serial number. An example of this would be C73F0961 C 0536857. If your radio is a TravelPilot, please see our Ford TravelPilot page. Please see images below for reference.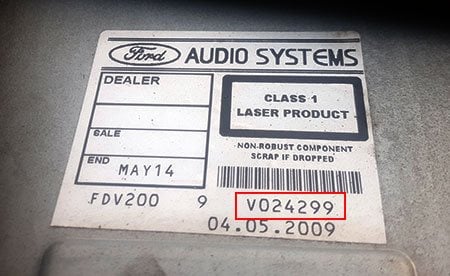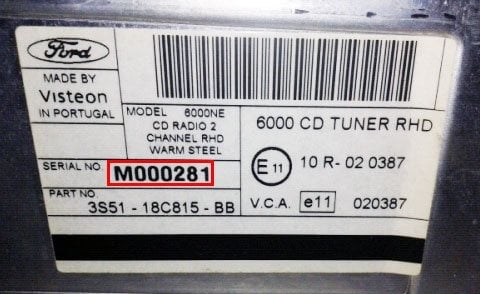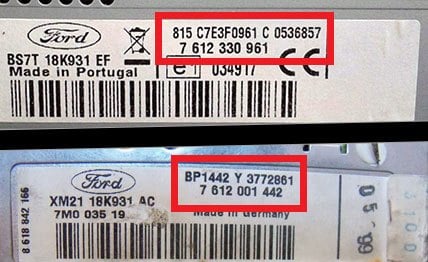 *Disclaimer: Please note that Online Radio Codes is a independant website and in no way authorised by, connected to or otherwise associated with 'Ford Motor Company Limited' all copyrights and trademarks are of the respected owner Ford, we do not sell or provide any products that are the same our similiar to Ford. We are car radio decoding specialist and all of our decodes are either obtain through databases which we own, or via in house radio decoding tools.