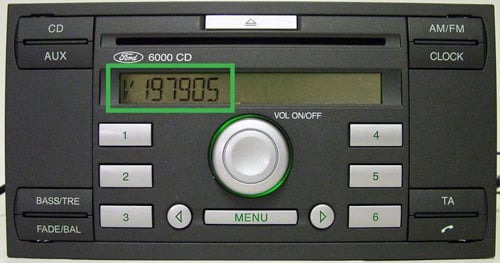 Ford 6000CD Model
To display your serial number on the radio's screen press and hold buttons 1 & 6 together. This will prompt the radio to go into its code cycle.
The V or M serial number will display towards the end of the cycle (for example V197905). Sometimes the serial is displayed across two screens, in this case, you will need to combine them to get the full serial number.
If the serial did not show, try holding buttons 2 & 6 together and look for a serial starting with the letter M (for example M197905).
If neither of these work you will need some radio release keys to remove the radio. Follow the instructions in our below section to obtain the serial.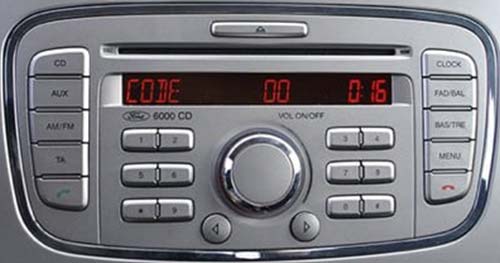 Ford 6000CD MK2 Model
Start by holding down pre-set buttons 1 & 6 together. Mk2 Radios will cycle through various different panels of information on-screen.
Your serial will begin with "V" followed by six digits, for example, the serial number could be "V074652"
Serial not displaying? View the next slide! ->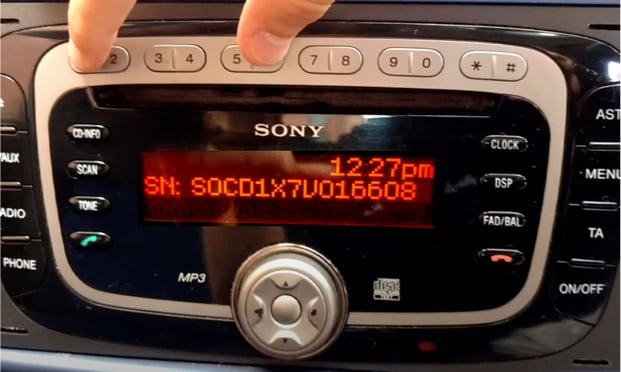 Ford Sony MP3
Hold down preset buttons 1 & 6 for 2-3 seconds, the display will go through various panes of information, the number in the sequence will begin "SN" or "SOCD" then the V016608 (example) serial number should follow this.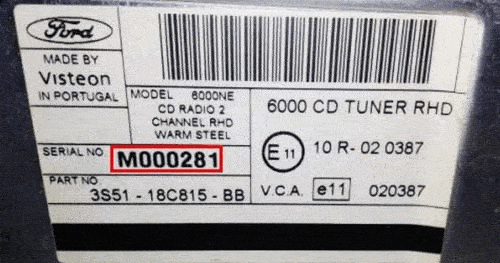 Ford Radio Label Examples
Serials begin V/M/BP/C7 for example V123456. The TravelPilot model is slightly different. An example of this would be C73F0961 C 0536857. please see our Ford TravelPilot page for more information. See these images for reference.