Audi TT Radio Codes
Only
£14.99
Audi TT Radio Code
decoding service for help please see the "how to" section below. We only supply genuine working Audi radio unlock codes with
over 250,000 customers served.
Award Winning Service.
250,000+ Happy Customers.
Emailed Within Minutes.*
Expert's On Hand To Help.
0/5
Payment Options
How Do I Get My Serial Number?
There are 2 types of Audi serial number (Audi TT Navigation Plus see method 2). It is quite simple to remove your Audi TT radio. You need a set of radio release keys (PC5-83). These are inexpensive tools, you can obtain them from Amazon.
Once you have the radio release keys, push them into the 4 holes in each corner of the radio, apply a little pressure and the radio will release from the dashboard. The radios label will be located on the radio's casing.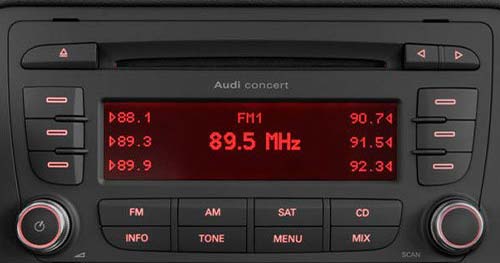 What To Do Next
The Audi TT radio serial is a 14 digit serial number for example AUZ1Z1F6412082. Please see image for reference.
If the sticker-label is damaged, the serial number is also compressed into the metal casing.
How to show your Audi TT radios serial on the radios display.
With the Audi Navigation Plus system the serial can be displayed on screen rather than taking out the radio unit.