Codes To Unlock Your Ford M Radio Code
£7.99
Online Radio Codes for all Ford M Series Radios
, We only supply working radio codes with
over 150,000 customers served.
Our decoding service is available
24 hours a day 7 days a week
. All radio codes are generated & displayed
instantly
after checkout.
Award Winning Service.
150,000+ Happy Customers.
Instantly Available.*
Expert's On Hand To Help.
9.4/10
Payment Options
How to Find Your Ford Radio Code M Serial
Hold Down Preset Buttons 2 & 6 Together
After holding 2 & 6 down your radio will show sequences of numbers, your radios serial number will only begin "M" followed by 6 digits only.
Locating Your Ford M Radio Code Serial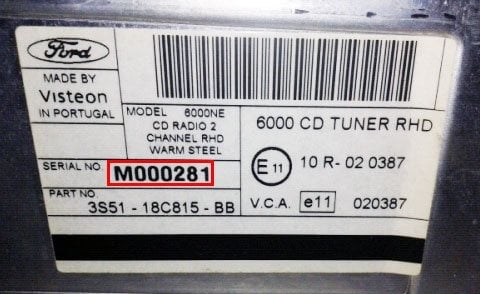 If pressing the preset buttons 2 & 6 did not show the information needed to unlock you radio. Removing your radio with radio release keys is required to get access to your serial number.
Radio release keys are very cheap and can be purchase at a local Halfords or online from Amazon.
When your radio is removed there will be a label that looks similar to th example shown, The serial number will be printed on this label.
How to Enter your Ford M Code
When the radio is turned on 'CODE' should display on the radios display.

Repeatedly press button 1 until the correct first digit of the code is displayed.
Repeatedly press button 2 until the correct second digit of the code is displayed.
Repeatedly press button 3 until the correct third digit of the code is displayed.
Repeatedly press button 4 until the correct fourth digit of the code is displayed.

To Input Your Ford Radio Code, simply press button 5 or Enter and your radio will start to play.
If LOCK10 appears after entering 10 incorrect codes, press and hold the number 6 button while turning on the radio to change from LOCK10 back to CODE. You then have 3 further attempts at the code before LOCK13 appears.
If LOCK13 appears then you will need to take the radio to a Ford Dealer or radio specialist to be unlocked.