Unlock Your 2001 Ford Fiesta Radio
Instantly Online
£7.99
Online Radio Codes for all 2001 Ford Fiesta Radios
, We only supply working radio codes with
over 150,000 customers served.
Our decoding service is available
24 hours a day 7 days a week
. All radio codes are generated & displayed
instantly
after checkout.
Award Winning Service.
150,000+ Happy Customers.
Code Instantly Displayed
Expert's On Hand To Help.
4.7/5
Payment Options
How to Find Your Ford Fiesta 2001 Stereo Serial Number
Method 1
Showing your 2001 Ford Fiesta radio serial code on the radios display.
Holding Preset Buttons 1 & 6
Turn on your radio and hold the preset buttons 1 & 6 for 2 to 3 seconds, the code cycle will begin, wait until your serial shows and make note. It will look like the image below .
Holding Preset Buttons 2 & 6
If buttons 1 & 6 do not work, try holding button presets 2 & 6. The radio serial will display on screen.
Ford Fiesta 6000CD Radio
To obtain your Ford Fiesta 2001 radio serial, hold buttons 1 & 6 together to start a code cycle. The 'V'/'M' serial will display towards the end of the cycle. For example V197905
If you do not see the serial try holding buttons 2 & 6 and look out for a serial starting with the letter 'M'. If neither of these work please refer to method 2 below. For example M197905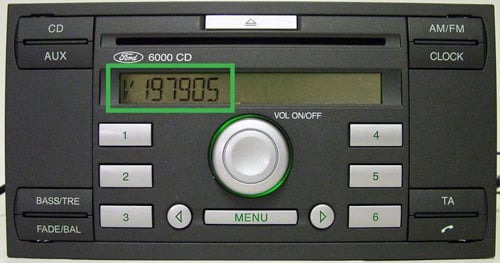 Method 2
How to Find Your Ford Fiesta 2001 Radio Code Serial Number on the Label.
Step 1 - How To Take Out Your Ford Fiesta Radio
It is quite simple to remove your Ford radio. You will need a set of radio release keys (PC5-132). These are inexpensive and are around £3 - £5, you can obtain them from Amazon.
Once you have the radio release keys, push them into the 4 holes in each corner of the radio (See image), apply a little pressure and the radio will release from the dashboard. The radios label will be located on the radio's casing.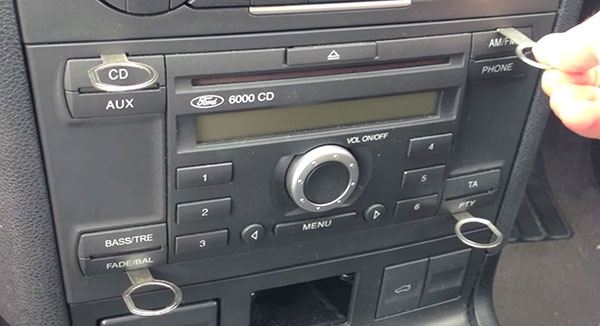 Step 2 - How To Find Your Ford Fiesta Radio Serial.
The Ford radio serial starts with V/M/BP/C7 for example V123456. The TravelPilot models are a longer serial number. An example of this would be C73F0961 C 0536857. If your radio is a TravelPilot, please see our Ford TravelPilot page. Please see images below for reference.